Mardana Taqat  Aur Tibb e Nabvi
jo be mard hazrat nQuwat e Bah  ki kami ya mardana kamzori  ka shikar hain. Mardana Taqat  Aur Tibb e Nabvi main aisay  nuskha jat  jis sa mard ka tamam aza  ko taqt milay gi aur mardana taqt main izafa ho ga ye nuskha bohat he asan hai aur asani sa ais kay ingredients gahr pa available hotay hain. Dawa lainay ki zarorat nai hai ye nuskha ap zaror try karen InshaAllah ais sa apko behtri mehsoos ho gi aur biwi ka samnay sharmindgai nai hogi.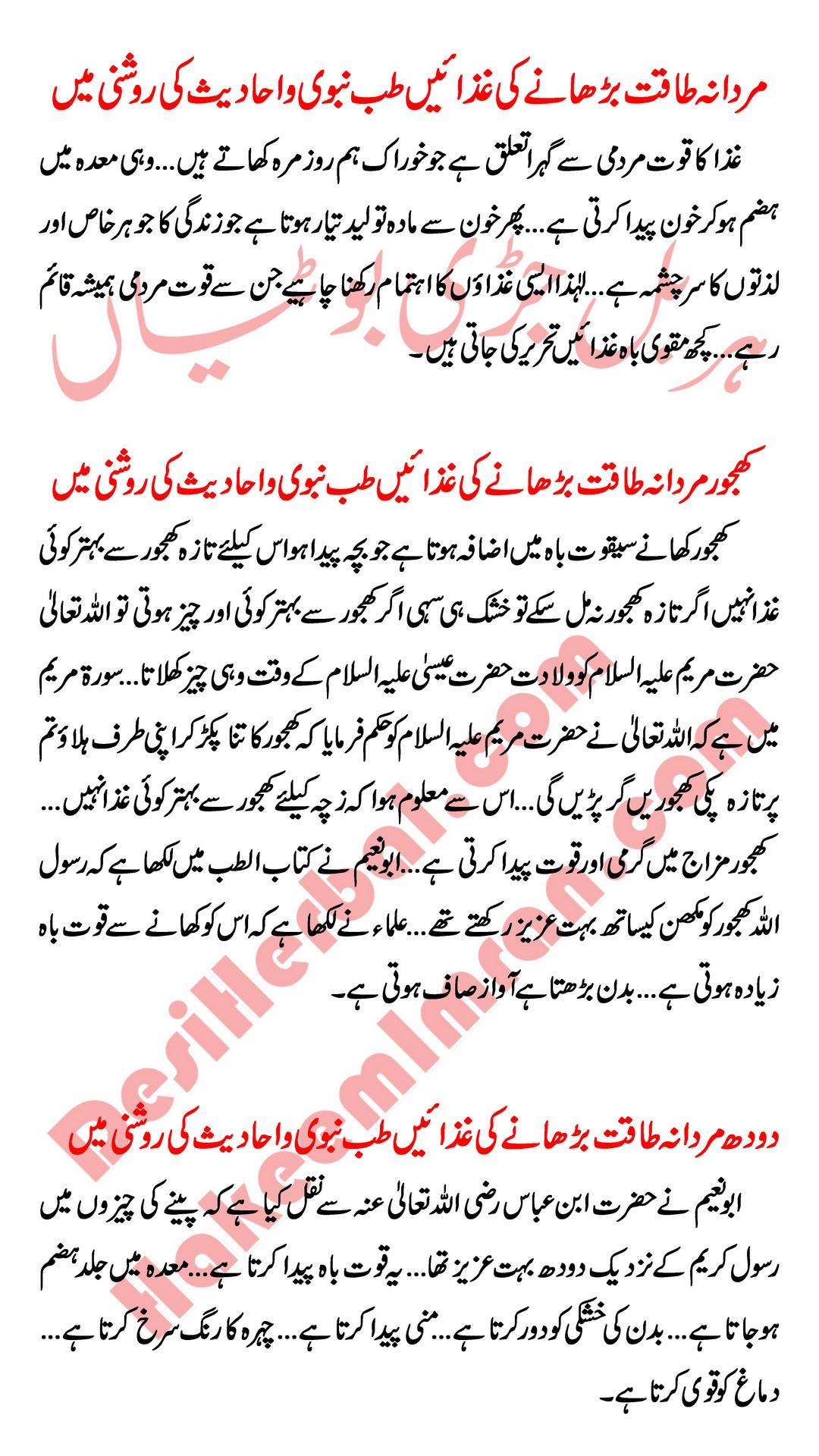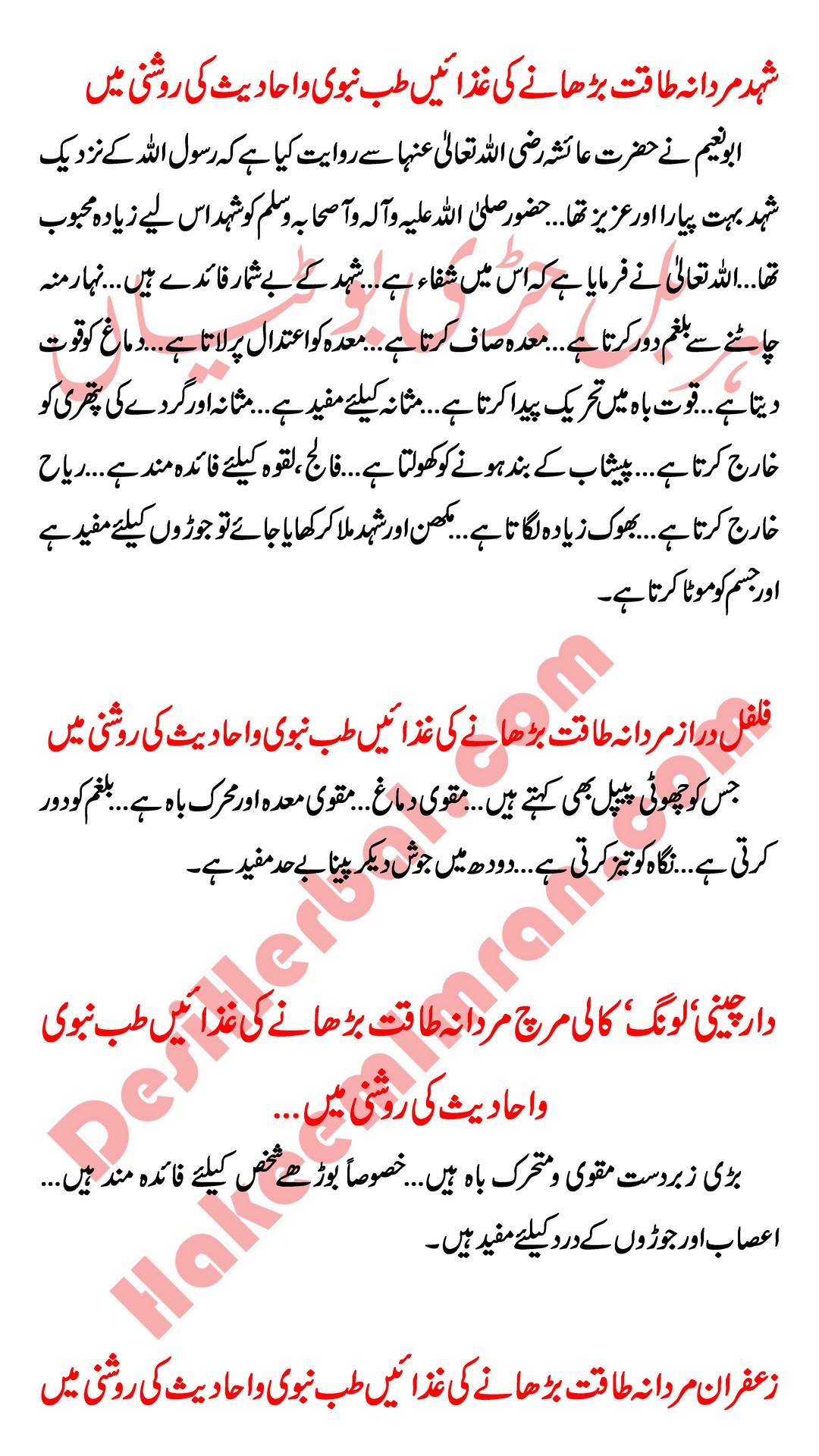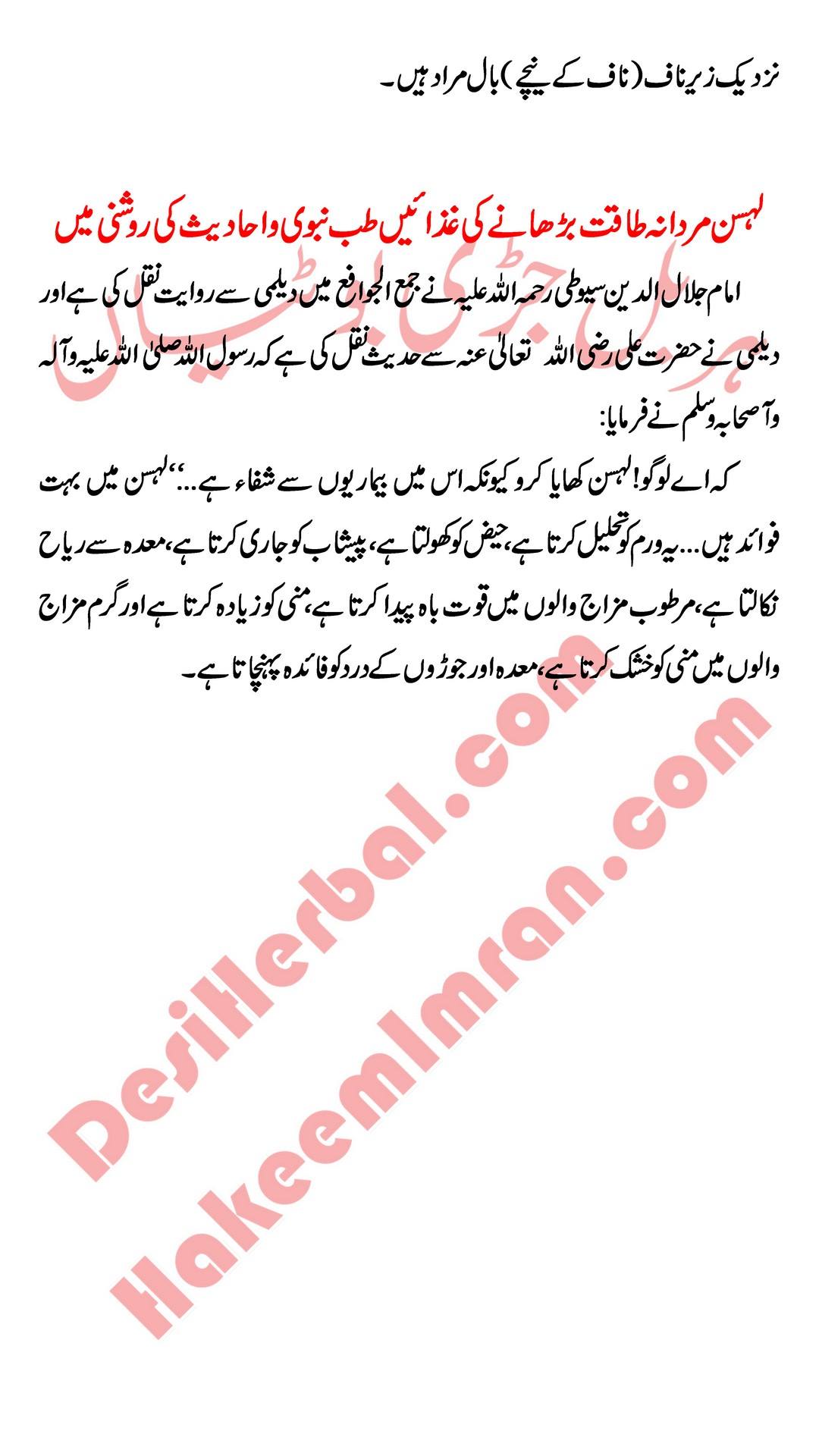 Mardana Taqat  Aur Tibb e Nabvi   in ahadees
"Abu Naeem na kitab ul Tib main likha hai kay Rasool Allah Muhammad SAW khajoor (Dates) aur Makhan (Butter) ko bohat aziz rakhtay thay"
Benefit
"Ulma (Scholars) na likha hai hai kay khajoor ( Dates) aur makhan (Butter) ko khanay sa quwat e bah/ Mardana taqt main izafa hota hai, jisam pehlta hai aur awaz saaf hoti hai.
Butter aur Honey ko sath mila kay khaya jae to pasli ka dard (PLEGRISY) kay lia bohat mufeed hai aur jisam ko farba karta hai.

Mardana Taqat  Aur Tibb e Nabvi   ki aik aur hadees
Hazrat Abu Huraira RA sa riwayat hai kay Nabi Kareem SAW na Hazrat Jibraeel sa apbi Quwat e bah ki shikayat farmai, to hazrat Jibraeel na Aap SAW sa kaha kay ap HARISA / Harissa tanawal farmaya karen kion kay ais main 40 Mardoon kay birabar taqt hai.
Harisa katay hoe geeho (Wheat) ghost (Meat) Ghi aur masla dal kar pakaya jata hai.
Abu Naeem Bin Abdullah Jafar say riwayat hai kay Rasool Allah SAW na farmaya kay Pusht ka ghost tamam gosht sa behtar hota hai.