Amla (Gooseberry) Kiya hy Aur Amla Benefits in Urdu
Gooseberry is a fruit. It is known as Amla in Urdu. this is a pure Indian Fruit. It has rounded circle shape. Gooseberry has much vitamin C more than fruits and vegetables. It has minerals, fats, carbohydrates, fibers, carotene, phosphorus, calcium, iron, thiamine, protein etc. Gooseberries are healthiest fruit. Kindly request to all of you, please first take advice to your Doctor then use any tips. In this page you will Gooseberry Benefits in Hindi.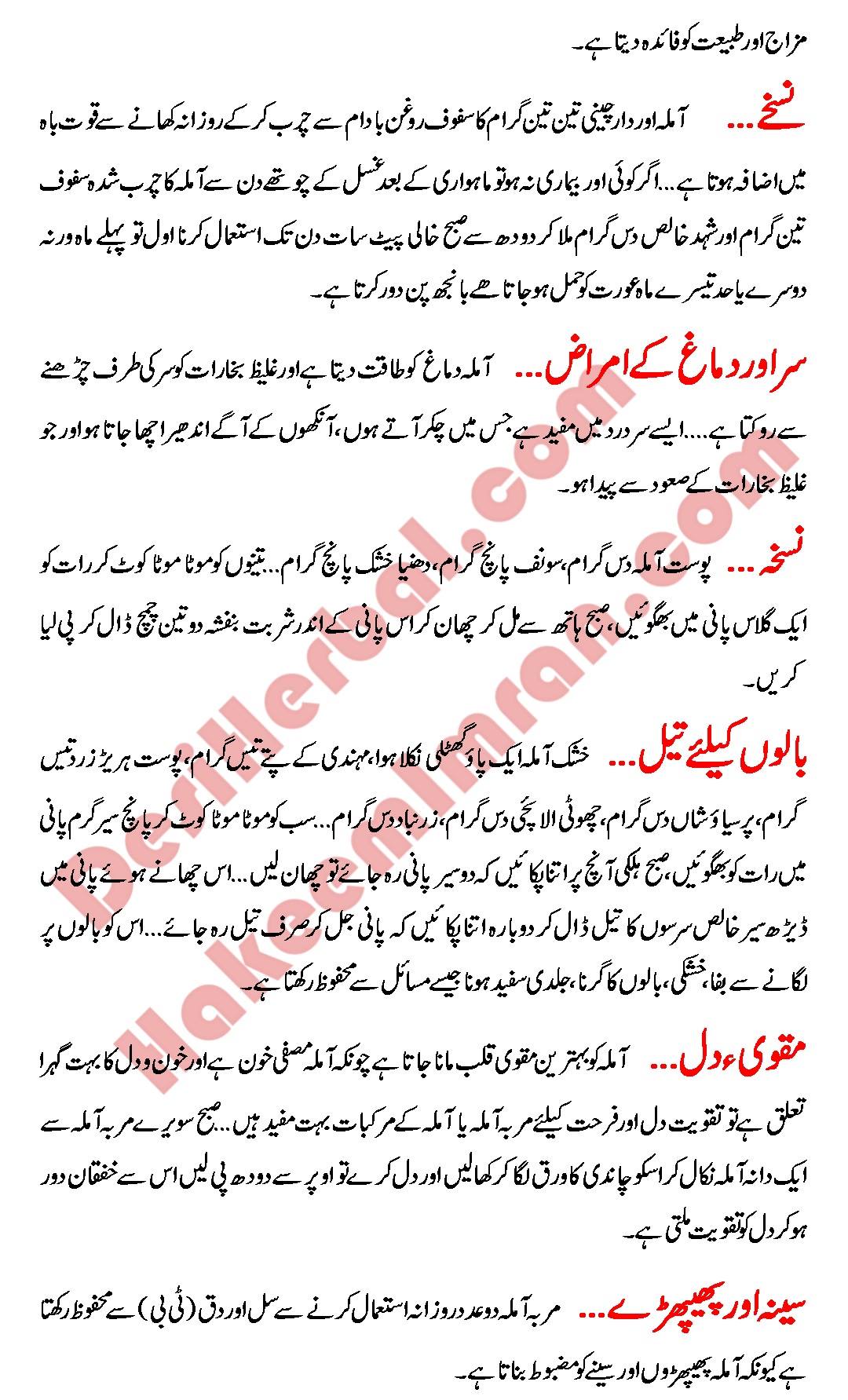 Mujarbat
Nuskha no 1 : "Meda Jigar Ki Taqwiyat"
Aamla 3 gram, mastgi, odkham, riond chini podina khushk maksarkh, zira, dhanya, ob ralsouse, magaz takham khayarin har 1 1 gram kul adoyat ko achi tarha kot kar chan len or is ka safof tayar kar len.
Nuskhan no 2 : "Jawani Ki Taqat Ke Lye" (For Energy)
80 baras ka borha jawan ban jae aamle ka safof bana kar aamle ke ras me bhigo kar khushk kar len 10 ghanta bad nichor kar safof phenk den or is pani me is qadar or aamle bhigo den is amal ko 7 bar karen phir is ko saf kar ke safof bana len is ke brabar ki khand shehad or ghee mila kar chat kar oper se dudh pi len chand roz me 80 baras ke borhe me jawani ki si taqat paida ho jae gi.
Nuskha no 3 :"Sar Chakarane Ke Lye" (For Dizzy)
Sar chakarane ke lye muraba aamla or warq naqra har ek ek adad warq me lapet kar subha nashta se pehle len insha Allah sar chakarane se nijat mile gi.
Nuskha no 4 : "ankhon ki safedi dor karne ke lye"(for eyes)
Ankhon ki safedi dor ho is ke lye 5 ya 6 aamlon ki guthli dor kar ke kot kar pani me bhigo den 10 ghante bad nichor kar phenk den or is me isiqadar aamla or bhigo den is amal ko 3 bar karen phir is ko saf kar ke ankhon me dala karen safedi boht jald dor ho jae gi.
Nuskha no 5 : " balon ka girna band karne ke lye"(for hair falling)
Balon ka girna band ho jae ga. Aamla 500 gram 1 kilo shika kai 250 gram barh ki darhi or methi ke bich 125 gram tamam ajza ko barik pis kar safof bana len 25 gram 180 ml pani me dal kar bator shampo istamal karen.
Nuskha no 6 : "aamle ka muraba" (aamla osmanlica)
Aamla banarsi or chini har ek 5 kg aamlon ko kante se gond len phir 2 din tak chone ke pani me bhigo den is ke bad achi tarha dho kar dhimi anch pr mamoli sa ubal len ta kle aamle kuch narm ho jaen ab qawam tayar kar ke is me aamle dal den aamla pani chor de ga aag pr paka kar niche utar len lijye muraba tayar hai.

Nuskha no 7 : "mede ki taqrib ke lye" (for stomach)
Aamle ka safof 3 masha phank lya jae meda ko taqwiyat milti hai.