Kiya Mard Gold Pehan Saktay hain
MARDO(men) KE LIYE SONA KI ANGUTHI(gold finger ring) aur SONA KI CHAIN(gold chain) PEHENNA "HARAAM" HAI!HAZRAT ALI(raziallahua n) se riwayat hai ke RASOOLULLAH(sal lallahualaihiwa sallam) ne
apne baye hath me resham liya aur dayne hath me SONA(gold) liya fir dono hatho ko upar uthaya aur farmaya YE DONO CHIZE yani resham aur SONA(gold) MERI UMMAT ke MARDO(men) par "HARAAM"hai aur aurato par halal hai!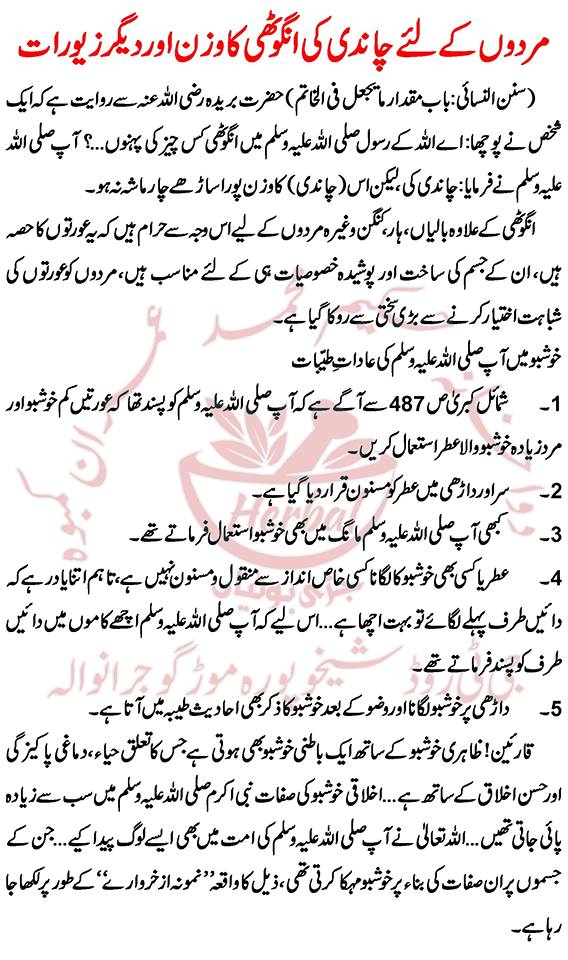 [SUNAN IBN MAJA, JILD-3, KITABULIBASI, BABU
LUBSILHARIRI WAZZAHIBILINNIS A'AYI]
ye HADEES "SAHIH" hai!
SHARH:
IMAM NAWAVI(rahimahu llah) ne farmaya
ULOOMA EKRAM ka ispar IJMAH hai ke UMMAT
ke MARDO(men) par SONA(gold) HARAAM hai
aur aurato par halal hai…
[hawala niche ayega]
HAZRAT ABDULLAH IBN ABBAS(raziallah uan)
bayan karte hai ke
RASOOLULLAH(sallallahualaihiwa sallam) ne
ek MARD(man) ke hath me SONA ki UNGUTHI
(gold finger ring) dekhi to RASOOLULLAH
(saw ) ne wo unguthi uske hath se utarkar
FENK diya aur farmaya
tumme se koi pasand karta hai JAHANNAM ki
ANGAR apne hath me lena?
jab RASOOLULLAH(saw ) waha se chale gaye
to logo ne us shaks se kaha tu apni unguthi
uthale aur isse faida utha yani bech(sell) de to
us shaks ne kaha allah ki kasam mai isko hath
bhi nahi lagaunga jis ko RASOOLULLAH(saw )
ne fenk diya hai!
[SAHIH MUSLIM, JILD-5, KITABULIBASI
WAZINATI, SAFA-312]
SHARH:
ye dono hadeeso se ye to waze ho gaya ke
mardo ke liye sona ka ring unguthi ya chain
ya koi aur sona ki zewar sakt HARAAM hai aur
yahi ijmaah hai jaisa imam nawavi(ra) ke kaha
aur ek masla yaha yaad rakhne ki hai sona ki
tijarat trading me koi harj nahi wo kiya ja
sakta hai khud muaviya(rzn) sona ki tijarat
kiya karte the(sunan ibn maja, j-1, mukadma)
par mard sona istemal nahi kar sakta…
raha masla kya mard CHANDI ki RING yani
UNGUTHI pehen sakta hai to ji haa mard
chandi ka ring pehen sakta hai isme koi
kabahat nahi aur ispar waze hadees bhi
maujud hai yahi sahih muslim me,
aur ek masla yaad rahe kya mard chandi ki
chain galey me pehen sakta hai?
ji mard chandi ki chain NAHI pehen sakta kyu
ke galey me chain wagaira pehenna ye aurato
ki sewa hai mardo ki nahi aur rasoolullah
(saw ) ne la'anat ki hai aise mard par jo aurto
ki musabat kare…
wallahuwa aalam bisawab!
koi sawal ho to kar sakte hai allah hume
samajh ki taufiq de ameen!