Male infertility(Mardana Banj Pan) Ki iqsam
Banjpan sirf female main he nahin males main b hota hy.many of people nahin janty kay males main banjpan ki kitni iqsam hain.is artical main hum app ko is kay bary main total educate karin gy.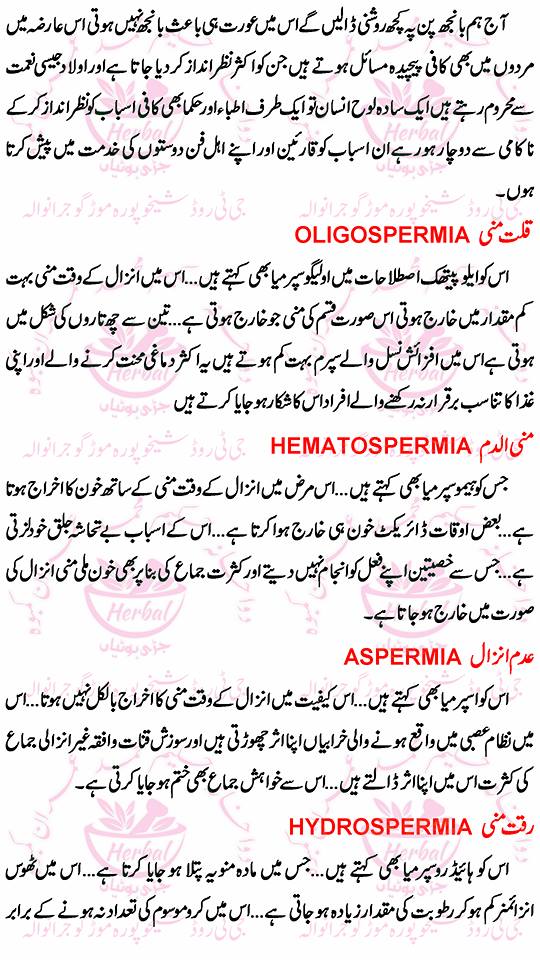 Oligozoospermia, refers to semen with a low concentration of sperm and is a common finding in male infertility. Often semen with a decreased sperm concentration may also show significant abnormalities in sperm morphology and motility (technically "oligoasthenoteratozoospermia"). There has been interest in replacing the descriptive terms used in semen analysis with more quantitative informatio
Hematospermia is defined as blood in the semen. While often perceived as a symptom of little significance, blood in the ejaculate can cause great concern to the men who experience it. The condition is common, and many episodes go unnoticed; therefore, the prevalence of hematospermia remains unknown.
Aspermia is the complete lack of semen with ejaculation (not to be confused with azoospermia, the lack of sperm cells in the semen). It is associated with infertility. One of the causes of aspermia is retrograde ejaculation, which can be brought on by excessive drug use, or as a result of prostate surgery.
Hydrospermia is a condition in which the viscosity of semen is decreased and fluidity is increased.in some cases semen is so watery that it contains few sperms or even sometimes in some cases no sperms.in almost all the cases premature ejaculation is found .sterility may also be due to this condition (if in every discharge there is no sperm in semen,it may be a case of azoospermia which is not curable if only a single sperm is there the number of sperms can be increased by unani medicines)
though hydrospermia is curable and consistency of semen can be brought to normal levels.
defect in function of testicles is responsible for it .
secondly excess use of sour and bitter kind of foods. or intake of bitter or acidic medicines.
consumption of fried foods and plenty of wine are the causes.
Azoospermia is the medical condition of a man not having any measurable level of sperm in his semen. It is associated with very low levels of fertility or even sterility, but many forms are amenable to medical treatment. In humans, azoospermia affects about 1% of the male population[1] and may be seen in up to 20% of male infertility situations